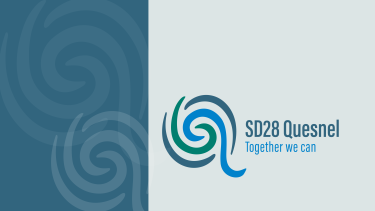 New District Website to Enhance Connections
October 27, 2022
Issued on October 26, 2022 for immediate release:
Visitors to sd28.bc.ca will experience a completely new website, beginning this month. The site rebuild is part of the district's broader communication efforts, stemming from its new strategic plan.
 "The website is our most important ongoing method of widespread communication," explains Jennifer Woollends, secretary-treasurer for SD28 Quesnel, and project lead. "We know that improvements to our web interaction is an essential part of strengthening connections with our parents, students, staff, and community. We heard this loud and clear in our consultation."
 Among the many features of the websites is a broadcast function, which can instantly publish high-visibility banners across the website, notifying the public of urgent information like school closures due to weather.
Another key aspect of the new website is a News Hub, with announcements, news, calendar of events, and promotional tools for important information. The website also allows for multiple publishers to manage content and post information on an ongoing basis.
 Starting in 2023, websites for all SD28 schools will be added to the shared system. Family members who may have children at different schools, for example, will experience a familiar website interface and features, along with common district news hub items that are fed to all sites.
"We look forward to creating new websites for all our schools and key departments next year," adds Woollends. "The common platform allows for powerful interconnections between all SD28 sites and makes training and support much more practical." In addition to school websites, there will be new sites developed for Curriculum, Aboriginal Education, and Human Resources departments.
 Planning for the new web system, called Schoolkit, began early in the year. Development, training, and communications support are being handled by Sotropa Communications. Since 2006, the company has been providing web and communications services to school districts across BC, including Abbotsford and Kootenay Lake districts.
 "It is very satisfying to work with SD28," says Jeff Sotropa, owner of Sotropa Communications. "When we learned about the district's extensive consultation process, and its grass roots strategic plan, we saw a real authenticity around improving connections and collaboration. There's a sense of commitment, and that's essential to sustaining good communication."
 For more information, please contact:
 Jennifer Woollends, Secretary-Treasurer
SD28 Quesnel
250-992-8802/ jenniferwoollends@sd28.bc.ca
Media Contact: